First Ever 100% Automated
Social Link Builder
Now You Can Build Unlimited Social Backlinks Within 2 Clicks -
No Captchas - No Signups!
Social Backlinks

- 200+ Unique Websites!

Unlimited Campaigns

- NO LIMITS!

Whitelabel Reports

- For Yourself & Clients!

95% Success Rate

- For literally ANY URL!

Drip Feed

- Safe & Natural Link Building

Built-in Pinger

- Click & Done!

100% Automated

- No Captchas, No Proxies!
What is Social Ranker?
Social Ranker is the First Ever - 100% Automated Web-based Social Link Building tool which allows unlimited link campaigns.

Main Features
Web-based SEO Tool

Sign up & start adding campaigns right away from the members area. It's all web-based, nothing to download or install.

Social Backlinks

Get backlinks from over 200 high authority social websites within two clicks. Social link building was never THIS easier before!

Unlimited Campaigns

Social Ranker allows unlimited link building campaigns with 95% success rate unlike our competitors... we want you to take advantage of these powerful social sites without limits!

Multiple URLs (Tier 1 & 2)

You can add different URLs and spread links over multiple pages of the same website as well as Tier 2 URLs/links. Doing this will equally benefit all your website pages or Tier 2 links and make your SEO campaign look more natural.

Link Automation

Social Ranker has taken link automation to the next level with automated signups, captcha solving, proxy usage, and detailed reports. Just sit back and watch as the social magic happens!

Video SEO

Social Ranker is great for videos to get natural views, likes, and higher ranking in search engines. Video embeds on social sites have proven to be one of the most effective ways to rank videos.

Built-in Pinger

Just copy/paste your backlinks in our built-in online pinging system and see them getting supercharged via 24 ping services almost instantly.

Rank Higher!

Social backlinks, signals, bookmarks or whatever you call them... search engines love these natural authoritative links generated from active social networks. Time for you to dominate those top spots!

Whitelabel Reports

Every single campaign that is processed through our system comes with a proof in form of detailed Excel reports. You will even get login details of all the sites where links are created. We keep them Whitelabel so that you can send directly to your clients :)

Drip Feed

Drip Feed your campaigns from 1 to 3 days. It's the best way to slow down the link building process to ensure safety and compliance with search engine "good-backlinking-practices".
Ranking Higher without spending $$$ is NOW POSSIBLE!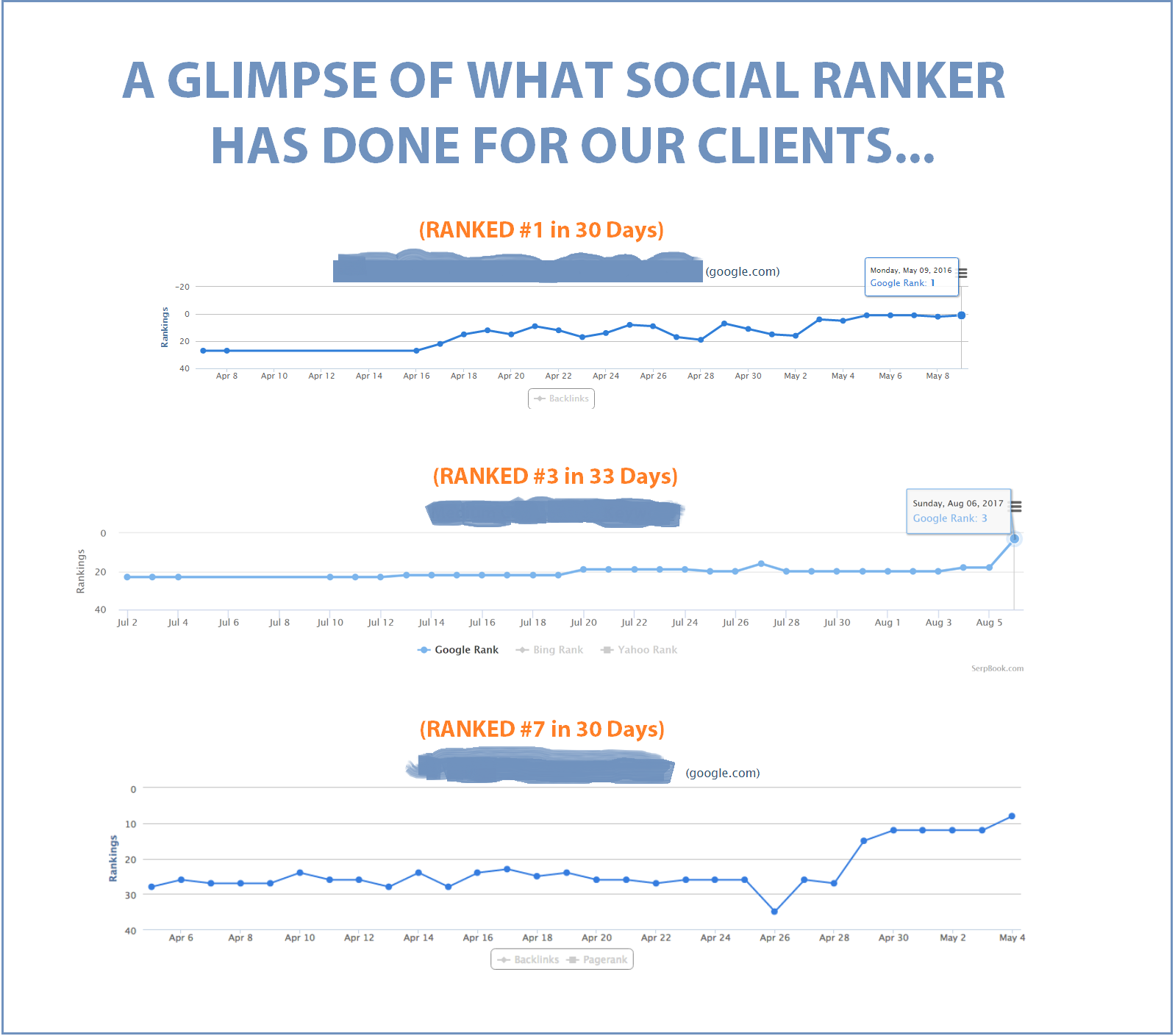 Remember: You don't even need to lift your finger (let it be captchas, registration, posting or anything else)
as Social Ranker does every single task 100% automatically!
Take a Sneak Peek!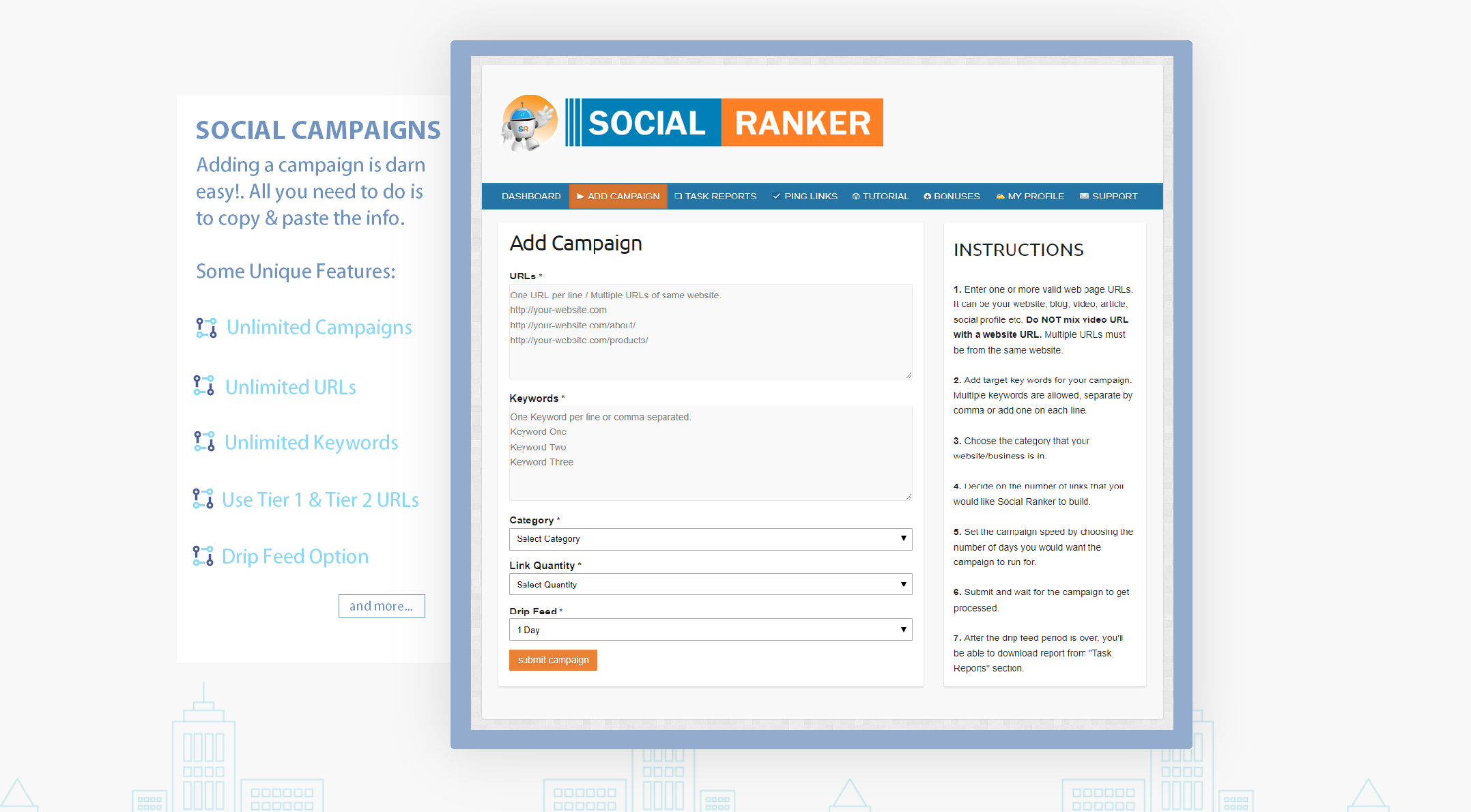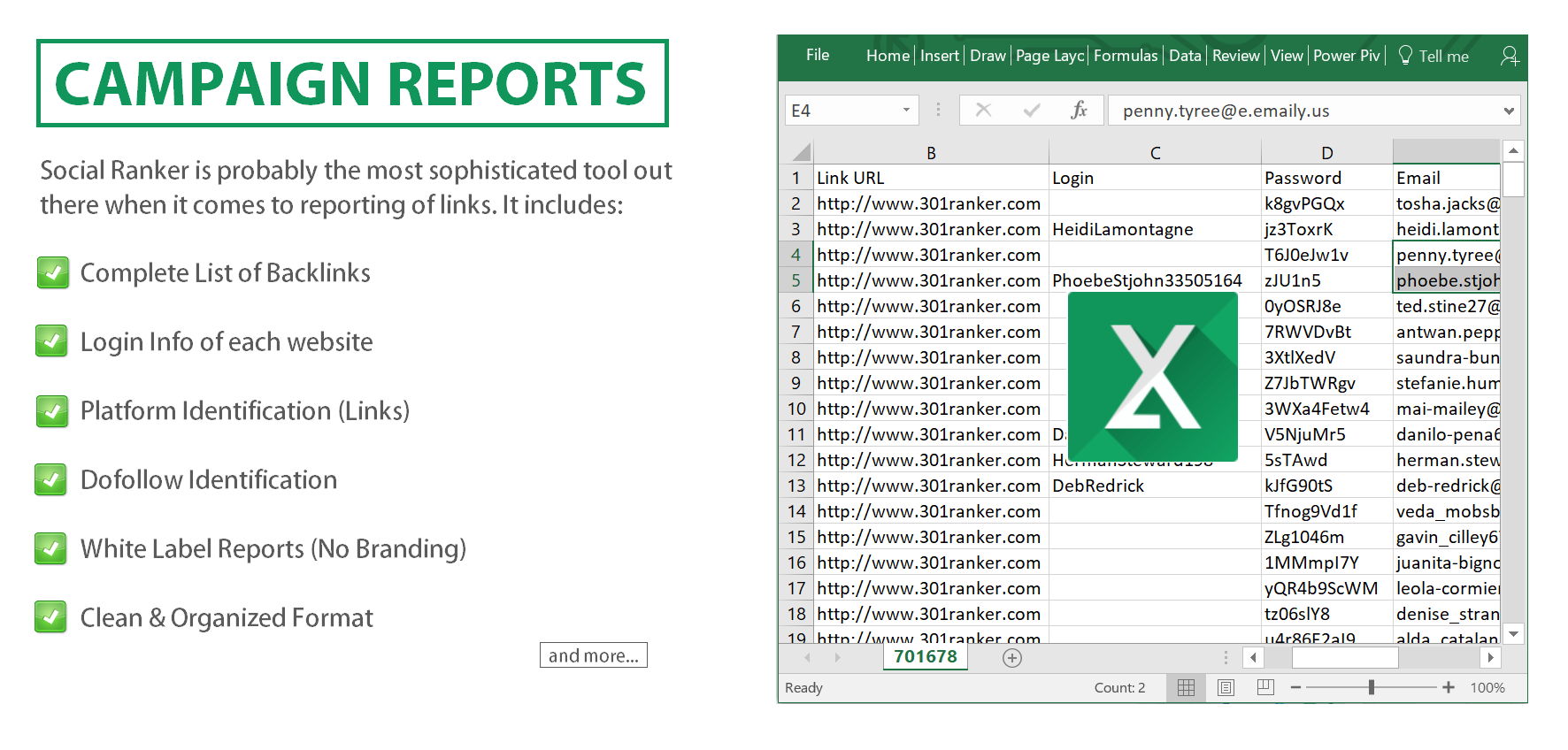 What Makes Social Ranker Unique & Powerful Compared To Other Tools?
1
Social Link Building
- Social Ranker is probably the only social and search marketing tool available in the industry with hands-free powerful link building options on 200+ social sites. There are absolutely no limits on the number of campaigns unlike most softwares.
2
Web-Based Software
- Nothing to download, install, update, upgrade or manage.. Isn't it great? Social Ranker is web-based SEO tool which allow you to add and manage campaigns in cloud environment. All tasks are done without captcha API and proxies.
3
100% Automated
- This is truly a hands-free social link building tool where each and every task is automatically handled and delivered. No registrations, manual captchas to deal with, grunt work - an absolutely automated ranking solution.
SOCIAL LINK BUILDING MADE EASY!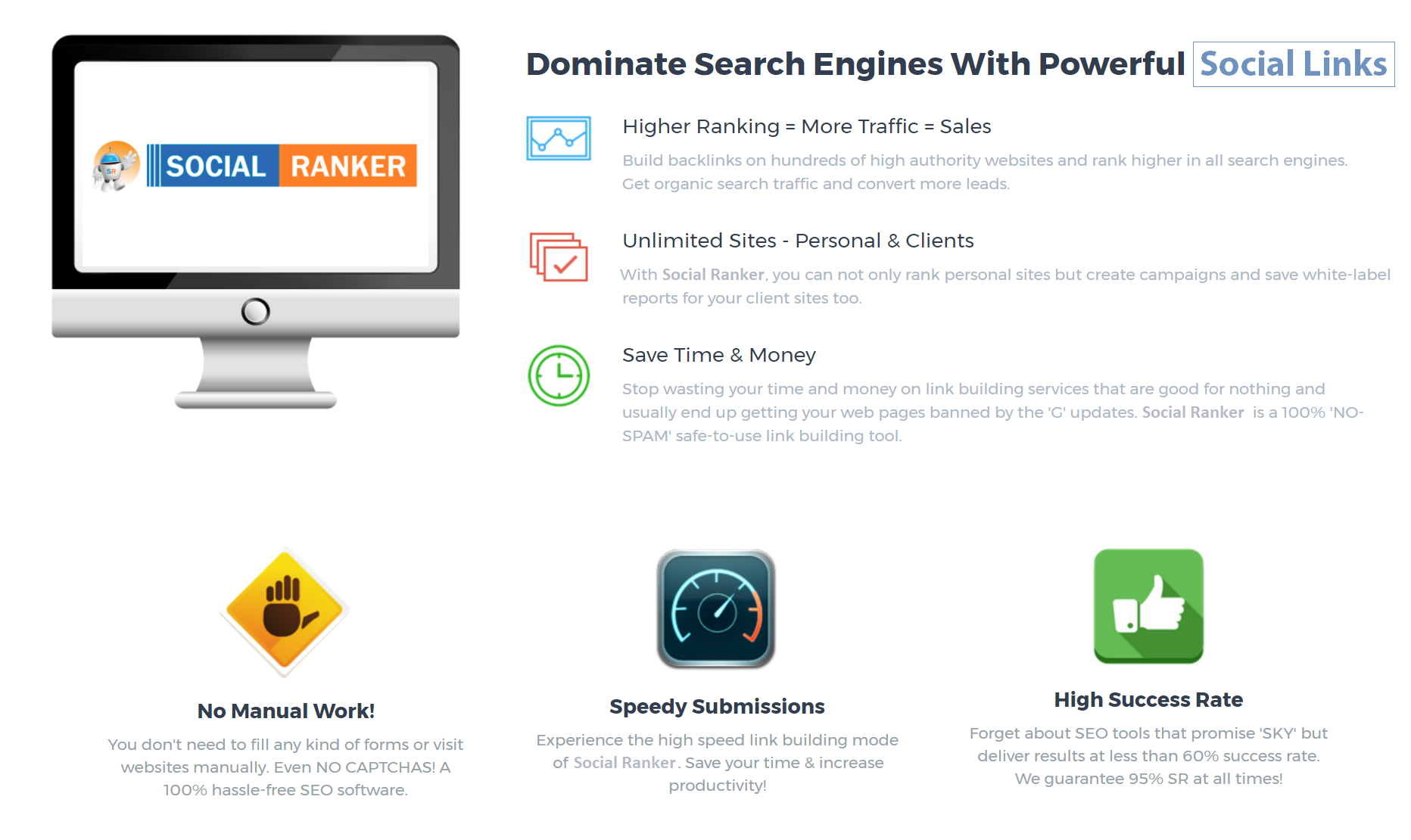 Click. Submit. Rank. 100% Automatically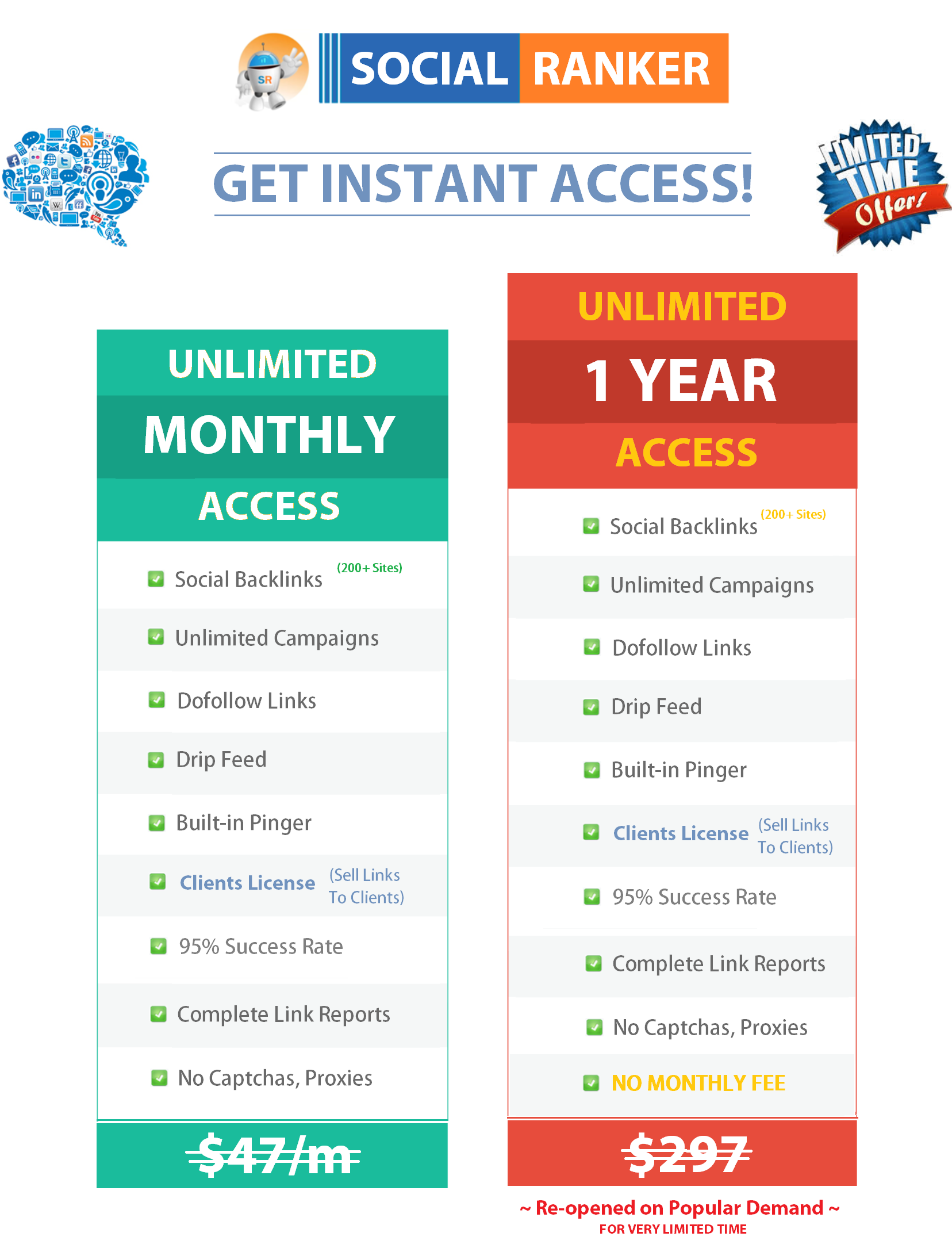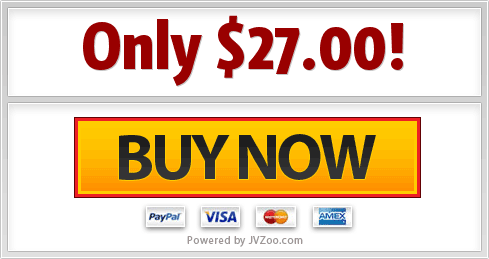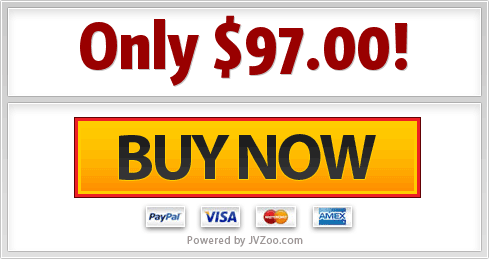 NOTE: After Payment, You'll receive an email from JVZoo with information regarding Account Activation.

FREQUENTLY ASKED QUESTIONS
What is Social Ranker?

Social Ranker is a web-based social link building tool which offer unlimited campaigns, some of the most powerful automation features, drip feeding, white label reports, built-in pinger and much more!

Can I add multiple URLs and foreign keywords?

Absolutely. It's as easy as copy/pasting multiple URLs from the same website and adding keywords in any language your website/business is in. You can even mix and use Tier 2 URLs that are different from money site.

Do you offer campaign scheduling (drip feed)?

Yes, you can set a drip feed period for one or all campaigns from 1 to 3 days. It's not a very big deal though since we're getting links from social websites and at most 200, which is by all means a very safe number.

Is this safe to use with Youtube Videos?

In fact, we highly recommend using Social Ranker for Youtube videos based on the results we achieved with our clients in last 6 months. Months of testing with 100s of client videos show that Social Ranker is 100% safe for ranking videos.

Will I get any campaign reports?

YES! Our system will add a White-label report to your campaign once it is completed. You will be able to download a complete backlinks report in Excel format with login info included for each site where the link is created.

Can I sell links generated with Social Ranker to my clients?

YES! We allow members to run campaigns on behalf of their clients and charge them for those social links. The only thing prohibited is sharing of account details in any way!

Do I need to download/install anything?

No, not at all. Social Ranker processes and manages all your campaigns in a cloud environment. Thus, all you need is an account at our website. It doesn't matter what operating system you use, Windows or Mac or Anything else - as long as you have access to an internet connection, you can use social ranker :)

What's your refund policy?

Since the nature of our software is so that a lot of costs like captcha solving, proxies, signups is incurred to automatically process your campaigns, We Offer Full "No Questions Asked" Refunds Within 7 Days of purchase. It means that you'll only get refund if we received the request within 7 days of purchase, requests later than that will not be entertained.

Get Instant Access To Social Ranker Right Now!